Navigating a neuromuscular disorder diagnosis needs personalized support efforts
Navigating a neuromuscular disorder diagnosis needs personalized support efforts
"It seems like only yesterday, my son Ryan was at taekwondo and another parent, who was a neurologist, approached me. He had been watching the class and noticed Ryan was having trouble getting up off the floor. He suggested that we have him tested for muscular dystrophy," says Ryan's mother, Allison Belme.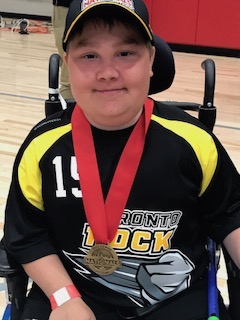 A muscular dystrophy diagnosis can be a rollercoaster ride of emotions. Because it is a rare disorder, many parents and individuals are unfamiliar with its progression, the resources available, and what daily life will look like post-diagnosis.
"After Ryan was diagnosed with Duchenne Muscular Dystrophy (DMD) when he was five and a half, we felt lost and alone – we did not know where to turn for help. Then we met Karen from Muscular Dystrophy Canada (MDC)," says Allison.
"I relied on MDC to help me advocate when the school administrators decided Ryan needed to be in his wheelchair at all times. And again, when they decided he couldn't go canoeing on his graduation trip." 
After a diagnosis, things continuously change. There are many stages of emotions as you discover new challenges. No two people experience a diagnosis the same way which is why MDC provides clients with personalized support.
"MDC calls what Karen and others across Canada do – System Navigation – I call it being a lifesaver. One thing I can always count on when things get overwhelming is that Muscular Dystrophy Canada will be there to help me solve problems and put things into perspective."
"Now, as Ryan turns 15, I look at him and see a young man who is growing in confidence and independence, someone who is trying new things and learning to advocate for himself.  As he connects with others, through sport – his powerchair hockey team just won nationals last summer (pictured above), through camp and through fundraising events and walks, I can see how far we've come since kindergarten. I share our story, as a chance to say thank you to everyone who donates to Muscular Dystrophy Canada – your support has made such an impact on our lives!"